Vanira Cruise from Bora Bora to Taha'a/Raiatea
From Monday to Thursday
DAY 1 – Monday
Boarding in Bora Bora on Monday at 2.00pm
Cruising to the South East of the island. Anchorage and dinner onboard
DAY 2 – Tuesday
Breakfast in the lagoon followed by nautical activities or optional excursions
Lunch onboard
Late afternoon, cruising around Bora Bora
Dinner onboard and departure to Taha'a
DAY 3 – Wednesday
Breakfast onboard
Excursion ashore (pearl farm, vanilla plantation…)
Lunch and afternoon on a motu (islet)
Late afternoon, cruising around the island
Dinner onboard
DAY 4 – Thursday
Breakfast cruising to Raiatea. Disembarkation at 10.00 am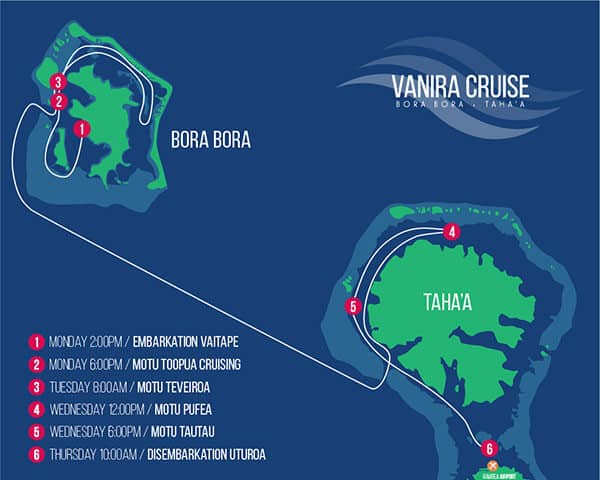 Embark aboard the Haumana for a once-in-a-lifetime adventure at sea and get to discover the mythical Bora Bora. Explore the wonders of the Pacific Ocean during a four-day cruise, take great delight in tasting high-class fares, discovering a brand new culture, relaxing and indulging yourself.
Sail on translucent waters, contemplate this unbelievable monochrome in blue on which the sun is beaming and hug the South coast as a premise. When the sun goes down, enjoy an exquisite dinner aboard with a charming motu as a background.
As you wake up, jump into the turquoise lagoon and try nautical excursions : paddle board, kayak or snorkeling. There are plenty of activities available and the depths of Bora Bora resemble a natural aquarium.
Lay down on your deck chair, take a deep breath, smell the perfume of frangipani flowers and take a sunbath under the coconut trees, lulled by the light mild breeze.
Lost in the middle of the ocean, Bora Bora shapes the horizon with its steep mountain and offers breathtaking panoramas which will undoubtedly please photographers. The crystal-clear waters and its landscapes could not get more exotic, it will definitely incite you to discover the island and its surroundings.
Heading to Taha'a, first exporter of one of the best vanillas in the world, it is also known as the « Vanilla Island ». After a copious breakfast, you will be given the opportunity to explore the site, go to a distillery and visit a vanilla plantation as well as a pearl farm.
After a last tropical breakfast at sea, your epic tale ends on the island of Raiatea.